Frameless Railing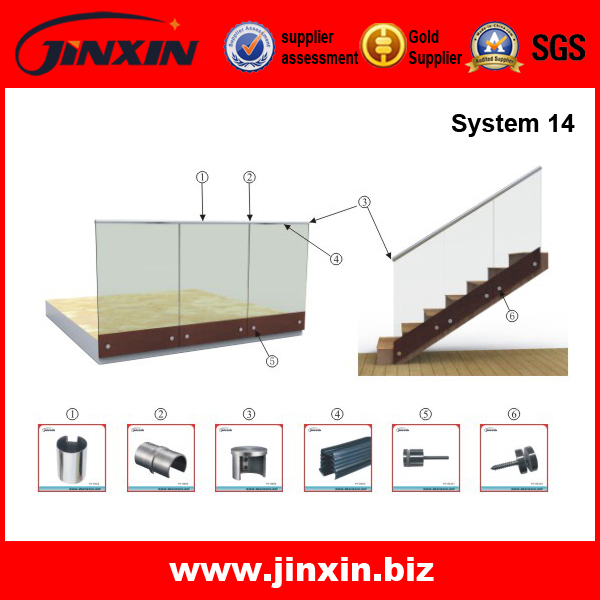 Key words: Glass Fence Spigot,Handrail System,Glass Handrail,Glass System,Channel Pipe System,New Design,Top Handrail Pipe,Glass Fence,Safety Glass System,JINXIN Band.
Frameless Railing
1.Frameless Railing system for glass is very simple and easy.
2.The thickness of tempered safety glass is available for 10mm,12mm,15mm,19mm
3.The material can be stianless steel 304 and 316 with satin and mirror finish for choice.
4.It is suitable to be installed onto the stair or balcony railing without any post inside or outside buildings.
5.The bottom is side mounted with two different kind of fitting to wood or conceret with M16*100/1500 bolts.
DESCRIPTION

CODE

Material

Finish

SPECS(MM)

①Top Glass Handrail Pipe

YK-9352

AISI 304/316

Satin/Mirror

42.4*1.5*(24*24)

②Middle Channel Connector

YK-9493

AISI 304/316

Satin/Mirror

42.4*1.5*(24*24)

③End Channel Cap

YK-9494

AISI 304/316

Satin/Mirror

42.4*1.5*(24*24)

④Rubber For Glass(8-10.76)

YK-9352A

AISI 304/316

Satin/Mirror

24*30*8

④Rubber For Glass(12-16.76)

YK-9352A2

AISI 304/316

Satin/Mirror

24*30*12

④Rubber For Glass(17-18.76)

YK-9352A3

AISI 304/316

Satin/Mirror

24*30*17

④Rubber For Glass(19-21.76)

YK-9352A4

AISI 304/316

Satin/Mirror

24*30*21

⑤Glass Holder(8-16mm)

YK-95331

AISI 304/316

Satin/Mirror

ø50*H:25*M16

YK-95332

AISI 304/316

Satin/Mirror

ø50*H:25*M16

⑥Glass Mount Holder

Yk-95333

AISI 304/316

Satin/Mirror

ø50*H:120*M16