Stair Square Grad Railing System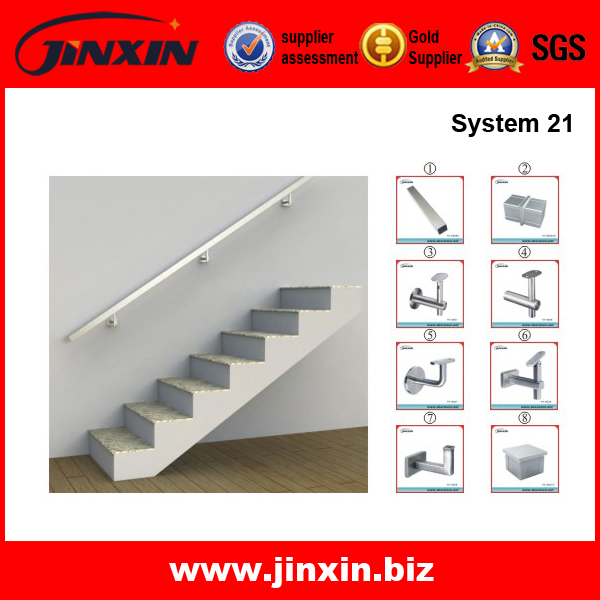 Key words: DIY Sqaure Railing System,Handrail System,Grad Railing Handrail,Steel Railing System,New Design,Top Handrail Pipe,Handrail Fence,Safety System,JINXIN Band.
Stair Square Grad Railing System
1.The Sqaure pipe sizde:40*40mm and 5050mm with 1.2/1.5/2.0mm.
2.The material can be stianless steel 304 and 316 with satin and mirror finish for choice.
3.The square stair garb railing is combined by square tube and brackets.
4.It is suitable to be installed onto the up and down stair for people grab railing to wall.
5.As individual demands,we offer different brackets with fixed or active top saddle for you.
DESCRIPTION

CODE

Material

Finish

SPECS(MM)

① Square Pipe

YK-9489

AISI 304/316

Satin/Mirror

40*40*1.2

YK-9489

AISI 304/316

Satin/Mirror

40*40*1.5

YK-9489

AISI 304/316

Satin/Mirror

50*50*1.2

YK-9489

AISI 304/316

Satin/Mirror

50*50*1.5

② Square Middle Connector

YK-9493A0

AISI 304/316

Satin/Mirror

40*40

YK-9493A0

AISI 304/316

Satin/Mirror

50*50

③ Wall No Hole Rod Bracket

YK-9451

AISI 304/316

Satin/Mirror

60*80*22

④ Wall L Shape Rod Bracket

YK-9454

AISI 304/316

Satin/Mirror

60*80*22

⑤ Wall No Hole Rod Bracket

YK-9457

AISI 304/316

Satin/Mirror

75*50*60

⑥ Rod Rod Bracket

YK-9534

AISI 304/316

Satin/Mirror

80*95*20

⑦ Square Bar Bracket

YK-9536

AISI 304/316

Satin/Mirror

60*48*20

⑧ Square End Cap

YK-9407A

AISI 304/316

Satin/Mirror

40*40

YK-9407A

AISI 304/316

Satin/Mirror

50*50