DIY Round Railing System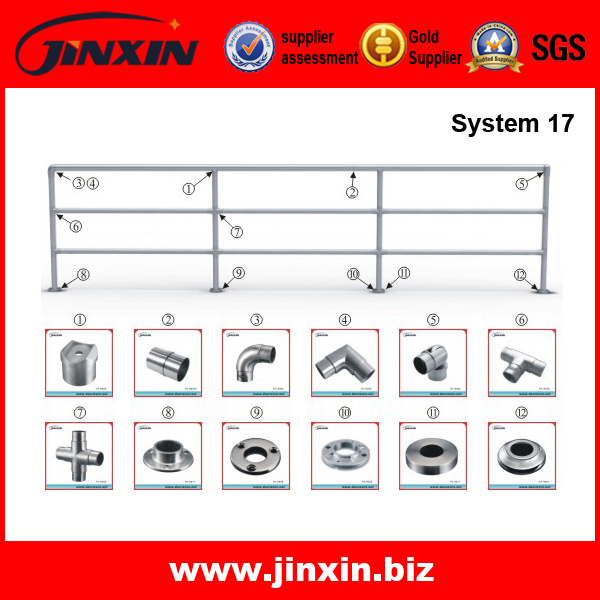 Key words: DIY Round Railing System,Handrail System,Glass Handrail,Glass System,Channel Pipe System,New Design,Top Handrail Pipe,Glass Fence,Safety Glass System,JINXIN Band.
DIY Round Railing System
1.It can be make long railing with more middle connectors.
2.The material can be stianless steel 304 and 316 with satin and mirror finish for choice.
3.It is suitable to be installed at any public or private railing with lower budget.
4.The DIY round railing can be very easy and simple install with pipe and necessary connectors.
5.The necessary accessories has included flange,base cover,elbow,three or four way connector,etc.
6.The round stainless steel pipe can be dia:42.4/50.8/63.5mm with different thickness for your choice.
DESCRIPTION

CODE

Material

Finish

SPECS(MM)

①Round Top Support

YK-9495

AISI 304/316

Satin/Mirror

50.8*1.5

②Round Middle Connector

YK-9493A

AISI 304/316

Satin/Mirror

50.8*1.5

③90 Round Elbow

YK-9354

AISI 304/316

Satin/Mirror

50.8*1.5

④90 Straight Elbow

YK-9355

AISI 304/316

Satin/Mirror

50.8*1.5

⑤Active Elbow

YK-9444

AISI 304/316

Satin/Mirror

50.8*1.5

⑥Three Way Connector

YK-9356

AISI 304/316

Satin/Mirror

50.8*1.5

⑦Four Way Connector

YK-9360

AISI 304/316

Satin/Mirror

50.8*1.5

⑧Round Stand Base

YK-9411

AISI 304/316

Satin/Mirror

50.8*1.5

Round Base Plate 1

YK-9498

AISI 304/316

Satin/Mirror

50.8*1.5

Round base Plate 2

YK-9525

AISI 304/316

Satin/Mirror

50.8*1.5

Base Plate Cover 1

YK-9477

AISI 304/316

Satin/Mirror

50.8*1.5

base Plate cover 2

YK-9481

AISI 304/316

Satin/Mirror

50.8*1.5