H:600Mm Channel Pipe PostSystem(NEW)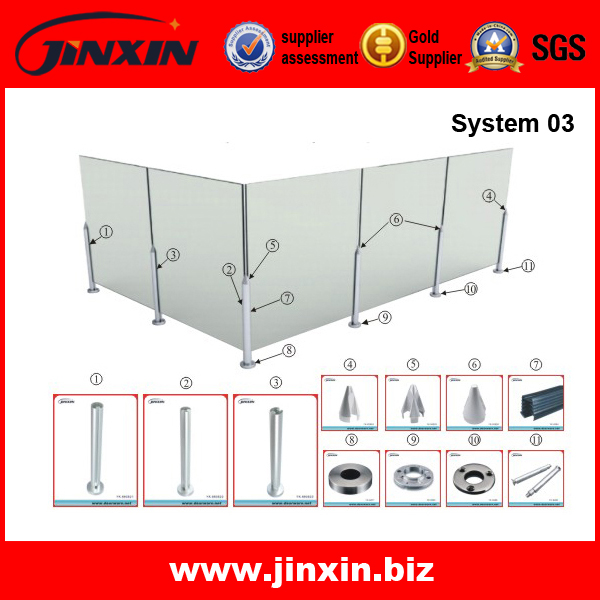 Key words: Channel Pipe Post System,Handrail System,Glass Handrail,Glass System,Channel Pipe System,New Design,Top Handrail Pipe,Glass Fence,Safety Glass System,JINXIN Band.
H:600Mm Channel Pipe Post System(NEW)
1.Dia:50.8*H:600MM Round Channel Pipe Post.
2.The solt is 15*15mm and top cap can be dome and flat.
3.It can be holding tempered safety glass such as 10mm,12mm,15mm,19mm.
4.The material can be stanless steel 304 and 316 with satin and mirror polished.
5.It is suitable to be installed onto the glass fence of swim pool,balcony,deck,etc.
DESCRIPTION

CODE

Material

Finish

SPECS(MM)

① Round Channel Side Post

YK-693521

AISI 304/316

Satin/Mirror

ø50.8*H600*(15*15)

② Round Channel Corner Post

YK-693522

AISI 304/316

Satin/Mirror

ø50.8*H600*(15*15)

③ Round Channel Middle Post

YK-693523

AISI 304/316

Satin/Mirror

ø50.8*H600*(15*15)

④ Dome Top Cap 0 Degree

YK-93524

AISI 304/316

Satin/Mirror

ø50.8*1.5*(15*15)

⑤Dome Top Cap 90 Degree

YK-93525

AISI 304/316

Satin/Mirror

ø50.8*1.5*(15*15)

⑥Dome Top Cap 180 Degree

YK-93526

AISI 304/316

Satin/Mirror

ø50.8*1.5*(15*15)

⑦ Rubber For Glass(9.76~10)

YK-9352A1

AISI 304/316

Satin/Mirror

15*15*10

⑦ Rubber For Glass(11.76~12)

YK-9352A2

AISI 304/316

Satin/Mirror

15*15*12

⑦ Rubber For Glass(13~14.76)

YK-9352A2

AISI 304/316

Satin/Mirror

15*15*15

⑧ Round Base Cover

YK-9477

AISI 304/316

Satin/Mirror

Dia:50.8*T1.5

⑨ Round Base Plate

YK-9525

AISI 304/316

Satin/Mirror

Dia:50.8*T16.0

⑩ Round Base Plate

YK-9498

AISI 304/316

Satin/Mirror

Dia:50.8*T8.0

⑾ Mounted Bolt

YK-9488

AISI 304/316

Satin/Mirror

M8*100